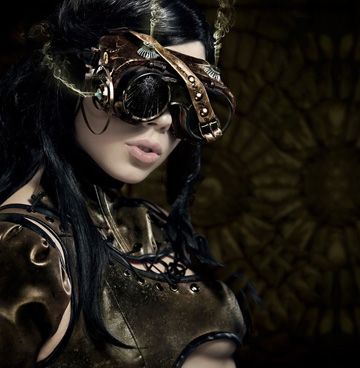 Race: Medonian Elf
Appearance: Malicia has black hair and vivid blue eyes. She stands about 5'5" tall, with a willowy build. Her fashion senses is a touch bizarre, and she generally wears an ankle-length black coat and black tophat, and glasses with dark lenses during the brightening.
History:
A woman was born on the great white plain. Clawing her way up from below the smooth waxy surface, she stood tired but upright, facing the three suns. The suns were low on the horizon, three pearls of molten iron lying on a distant table. The great white plain was vacant all around her, but the low angle of the suns cast shadows miles long and she was surrounded by their shifting and dancing forms, ghosts of distant dramas. She began to walk.
Hours passed, or perhaps years, but the suns grew no closer. Around her the shadows played out their lives; loving, mourning, dying, and enacting their strange rites. The woman turned to watch her own shadow, and saw it hail the shadow of a passing coach and climb nimbly aboard. And now the woman was dragged forward at a great speed, flapping and insubstantial at the heels of her now dominant shadow. Ahead and at last, solid forms began to rise up from the white expanse of the plain, small broken and tumbled things; a wreckage of tombstones. Behind this and past a crimson arch lay the land of the living, with buildings of grey stone and narrow serpentine streets. The woman's shadow disembarked the shadow coach, and the woman again gained ascendancy. The forms of the living were confusing and troublesome, and only with difficulty did they resolve into sensible objects.
At length the woman deciphered the landscape to be that of a city called Port Alyxandrya. It occurred to her some time later that perhaps her history was bred less of reality than of some mishap with the poisons it was her craft to brew. Still, it seemed to be all the history she now had. She took the name Malicia Waxwode and began the process of forging a life.